Lecture on Thelonoius Monk´s Music and Master Class with John Beasley, Day 2
This event has passed.
Share:
The University of Music and Performing Arts and JAM MUSIC LAB are very happy to welcome John Beasley back in Vienna.
On October 22th and 23th John Beasley will a lecture on Thelonious Monk´s music and master classes for pianists and student´s ensembles of MDW and JAM MUSIC LAB. 
The Master Classes will take place at the institute for popular music of MDW:
http://mdw.ac.at/ipop/event/masterclasses-john-beasley-22-23-10-2018/
http://mdw.ac.at/ipop/wp-content/uploads/Flyer-Masterclasses-John-Beasley_22231018.pdf
pre-reservation is required: office@jammusiclab.com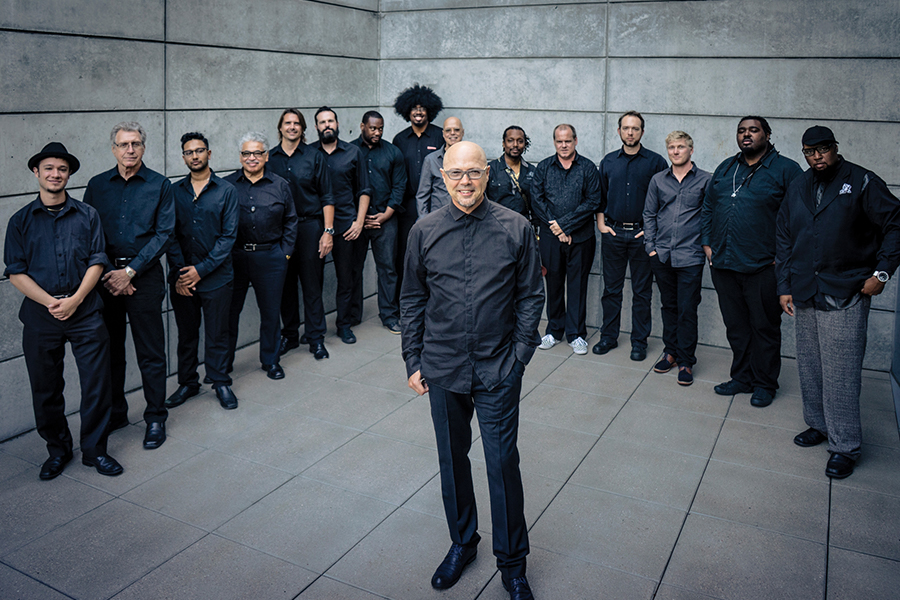 About John Beasley
"Beasley, the one-time keyboardist for Freddie Hubbard and Miles Davis, reflects a variety of generational influences, incorporating the emphatic chordal clusters of Herbie Hancock, the rhythmic quirkiness of Monk and the lush intelligence of Art Tatum into a highly refined personal voice." –Los Angeles Times
GRAMMY®-nominated recording artist and Emmy-nominated Music Director John Beasley's music career spans three decades with credits that reads like a "who's who" list in the music, Film, TV and other entertainment worlds.
HIGHLIGHTS OF JOHN BEASLEY'S CAREER:
PIANIST/KEYBOARDIST
Miles Davis, Freddie Hubbard, Herbie Hancock, Chaka Khan, Carly Simon, Christian McBride, Dianne Reeves, Marcus Miller, Stanley Clarke, Lee Ritenour, Kenny Garrett, AR Rahman, Baaba Mal, Jon Hassell, Ivan Lins, Sergio Mendes, Yosvany Terry, Ruthie Foster, Dave Gruisin, even a stint with James Brown, to name a few.
DISCOGRAPHY
MONK'estra, Vol 2 John Beasley conductor/arranger - Mack Avenue Records (September 01, 2017)
MONK'estra, Vol 1 John Beasley conductor/arranger - Mack Avenue Records (2016) double-Grammy nominated 
3 Brave Souls John Beasley, Ndugu Chancler, Darryl Jones - BFM Jazz
Positootly! Jeff Watts, Bennie Maupin, James Genus - Resonance Records Grammy nominated
Letter to Herbie Jeff Watts, Roy Hargrove, Christian McBride - Resonance Records
One LIVE Night Gary Novak, Dave Carpenter, Carlos Del Puerto – BFM Jazz
Nuances solo piano - EWE Japan
Surfacing Vinnie Colaiuta, Robert Hurst - EWE Japan, BFM Jazz
Cauldron John Patitucci, Bill Summers, Rickey Minor, Peter Erskine - Windham Hill
A Change of Heart John Patitucci, Terri Lynn Carrington, Freddie Washington - Windham Hill
10/10:The Music of Thelonious Monk John Beasley and Steve Cardenas,TDK Japan
Commotion 2: Sampler of Windham Hill Jazz – Windham Hill
Mose the Fireman (book on tape, narrator Michael Keaton, music by John Beasley and Walter Becker)
GUEST CONDUCTOR
Brussels Jazz Orchestra, Blue House Orchestra (Sweden), Russian Jazz Orchestra, upcoming: HR Big Band (Frankfurt), Knoxville Jazz Orchestra, Julliard + Rutgers' university orchestra playing the music of MONK'estra
MUSIC DIRECTOR, CONCERTS AND TOURS
International Jazz Day galas: Havana (2017), White House (DC) 2016, Paris 2015+2012, Osaka 2014, Istanbul 2013
Dianne Reeves Many Rivers Civil Rights concert 2016
Thelonious Monk Institute Tribute galas: Quincy Jones 2015, Bill Clinton 2014, George Duke 2013, 25th Anniversary Gala Tribute to Aretha Franklin
2012Tribute to George Duke, MD and co-producer with Darlene Chan/Festival West at Playboy Jazz Festival and Capitol Jazz FestivalJazz and Los Angeles
Philharmonic Orchestra, Disney Hall: Youth Concert series: Host/MD/Bandleader 2011 + 2014
Steely Dan Art Crimes world tour
Queen Latifah's Travelin' Lite 40-city US Tour
AR Rahman (Slumdog Millionaire composer) Jai Ho world tour
Carly Simon Aboard the Queen Mary PBS TV piano and conductor
RECORD PRODUCER
Second Opinion Peter Erskine and John Beasley (co-producers), Bob Sheppard, Ben Sheppard (2017)
Dr.Um + Lost Pages Peter Erskine and John Beasley (co-producers) Janek Gwizdala, Bob Sheppard, Larry Koonse, Aaron Serfaty, Jack Fletcher –Fuzzy Music (2016) Grammy nominated
A Twist of Rit Lee Ritenour and John Beasley (co-producers) – Concord Records
EWE Records: Chie Ayado:Time, Shine, Life, Yosvany Terry Metamorphis,Yota Miyazato Colors
FILM AND TV COMPOSER, PERFORMER
Films: James Bond: Spectre + Skyfall, Finding Dory + Finding Nemo, Get on Up (James Brown), Exotic Marigold Hotel I + II, He called me Malala, Wall-E, Shawshank Redemption, Godfather III, and 100+ films as drum/synthesizer programmer and pianist
TV: 2016 National Democratic Convention underscore, Touchstone TV logo, Award-winning TV series: Fame, Cheers, Family Ties, Star Trek: Next Generation
Commercials: Oldsmobile, Blockbuster, Hyundai, Toyota, Dodge and 100+
MUSIC DIRECTOR, TV SHOWS
Jazz at the White House – 2016 Emmy Nomination for Best Music Direction - ABC
Sports Illustrated Swimsuit: 50 Years of Beautiful, MD and theme composer - NBC 2014
American Idol (multi-platinum Carrie Underwood victory in 2005, Associate Music Director) FOX 2005
American Idol Lead Arranger FOX 2015 -2016
Sing Your Face Off - ABC 2014
Duets with John Legend, Kelly Clarkson, Robin Thicke, Jennifer Nettles - ABC 2012
Search for the Next Pussycat Dolls - CW 2007
Carly Simon A Moonlight Serenade aboard Queen Mary, Conductor - PBS 2005
ARRANGER ON PERFORMANCES AND ALBUMS AND MUSIC DIRECTOR REALITY TV SHOWS
Rhianna VMA performance 2016, Robert Glasper performance African American Museum 2016 Opening Concert ABC TV, SR Big Band Stuttgart-Germany, Luckman Jazz Orchestra
TV shows: American Idol (2005-2016), The Tonight Show, VHI Divas special, The Winner Is, America's Got Talent, Singing Bee, Duets, Search for the Next Pussy Cat Doll
AWARDS AND HONORS
2 GRAMMY® nominations, MONK'estra Vol 1, Best Large Jazz Ensemble, Best Arrangement 2017
GRAMMY® nomination, Dr.Um Peter Erskine+John Beasley, Best Instrumental Jazz album, 2017
Emmy nomination, Jazz at the White House, Best Musical Direction, John Beasley, 2016
GRAMMY® nomination, Positootly!, Best Instrumental Jazz album, 2011
EDUCATOR/BOARD
Guest Lecturer: Julliard NY, Rutgers NJ, Rotterdam Conservatory, ASCAP, I Create Music, GRAMMY® Camp and master classes in US, Guatemala, Taiwan, Mexico, and the Netherlands.
Governor of the Board GRAMMY/The Recording Academy, 18th Street Arts