Modern Hollywood-Orchestration From the Mock-Up to the Recording-Session - Workshop with Johannes Vogel - Day 1
This event has passed.
organology

"modern" versus "classic"

software

midi-clean-up

data import-export

orchestra/synths
Duration: 4 hours
Registration is required.
Share:
Workshops Film Scoring with Johannes Vogel 2018/19
HERCULES - From Pitch to the Final Music, The Development of a Hollywood Score
winter semester 2018, summer semester 2019
In these workshops you will be guided through the process of creating a modern Film Score.
Starting with how to pitch for a film-project, over creating the best mock-ups to orchestrating, preparing and executing scoring-sessions successfully.
The creation of modern filmscores need as a first step the reflection of  the effects  and esthetical  structures of filmmusic already known. Looking at dramaturgical developments in opera  and theater we can get the feel for audiovisual co-existance in expression and timing.
As a second step it would be necessary  to learn about the musical parameters in media composition, i.e.  musical theme, rhythm and harmonic structure as well as instrumentation, different technics applied in order to create a special sound including electronics.
After  finishing  the score we would have to deal with the technical process of production, which includes  Protools management, studio engineering, orchestration and music prep, as well as conducting an orchestra or choir and musical supervision.
Sponsored by Wien Holding

---
About Johannes Vogel 
Johannes Vogel was born in 1967 in Vienna. He was educated at the University of Music in Vienna. He was working with orchestras like Vienna Philharmonic, Bayerische Staatsoper, Opernhaus Zürich, Camerata Academica Salzburg, Austrian-Hungarian Haydn-Orchestra, Ensemble Kontrapunkte etc. Collaboration with Claudio Abbado, Bernard Haitink, Lorin Maazel, Christoph v. Dohnany, Riccardo Muti, Michael Gielen, Nikolaus Harnoncourt, Thomas Hengelbrock, Christopher Hogwood, Adam Fischer, James Levine, Andre Previn, Franz Welser-Möst, Carlo Maria Giulini, Giuseppe Sinopoli, Seiji Ozawa, Pierre Boulez, Georg Solti, Leonard Bernstein, Carlos Kleiber and many more.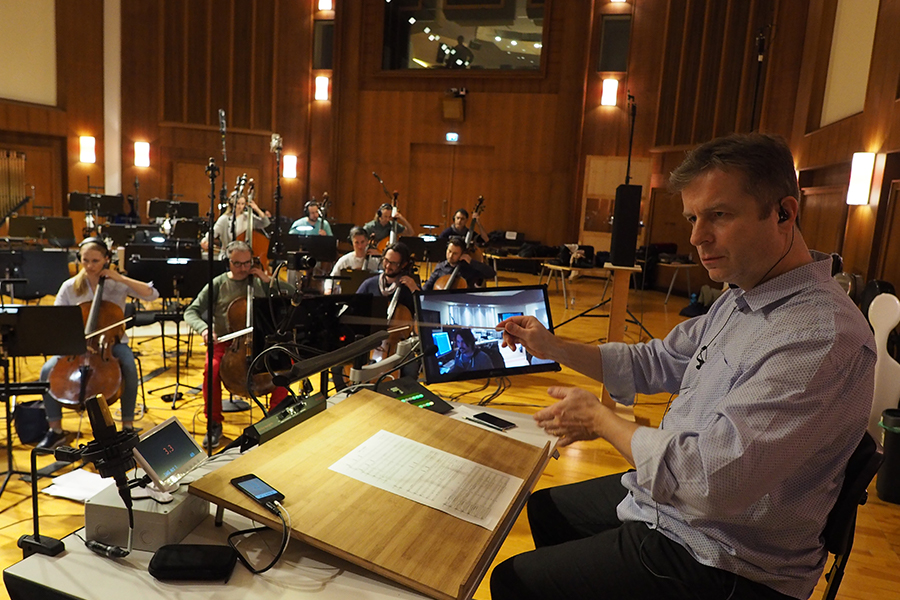 Now he is working as a composer/producer/conductor for Film and TV. He works closely with filmmusic-composer Fernando Velazquez. Works include "Mama", "Mariah Mundi", "The Impossible" and more.
Most recent works include "MGM/Paramount-production "Hercules" with Dwayne Johnson and director Brett Ratner,
Guillermo del Toro's "Crimson Peak" with Jessica Jastain and Tom Hiddlestone and "The Colony" with Emma Watson and Daniel Brühl.
As a composer he is also busy in scoring for TV like the very successful German show "The Mountain Medic/Der Bergdoktor" or the TV-movie "Heroes" (composer/producer/orchestrator/conductor). He also composes music for the Austrian television ORF ("Wahl-Musik", "Im Zentrum", "Thema" etc.)
Johannes is also a very busy session-conductor, mainly with the Slovak National Symphony Orchestra in Bratislava and at the new Synchron Stage in Vienna as head-conductor for productions like "Inferno" by Hans Zimmer, "The Crown" by Rupert Gregson Williams and Hans Zimmer and many more.