Mission & Philosophy
I JAM therefore I AM
JAM MUSIC LAB Private University (JMLU) is an autonomous private music university located in the city of Vienna.
It offers artistic and artistic-pedagogic studies of music forms of the 20th century and especially of the present, moving from the interface between classic and popular music in a variety of styles of popular music forms. Research and teaching are within the scope of these musical styles, located in a diverse, interconnected world. Their production and distribution through modern media technology and their impact on art, science and business are given attention to as well.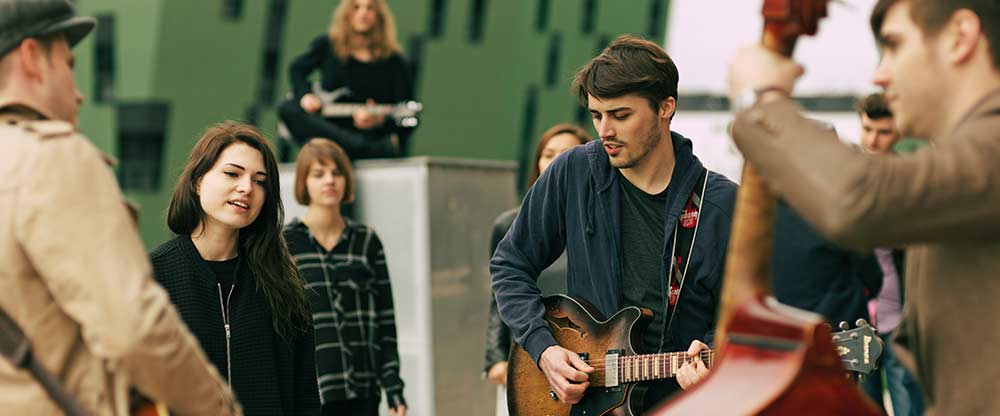 At JAM MUSIC LAB Private University the students and their future employability are the focus of the courses. A top-class, internationally successful team of lecturers and an innovative curriculum setup merge teaching, practical engagement and research together. The students get all the support they need for their aspired goals, with specific attention to their own individual talents. With a view to ensuring that students make a successful start in their prospective careers, they are prepared by means of holistic teaching concepts in musical and artistic practice, pedagogy and music business, specifically the requirements of the current market and the demand in existing occupational fields.
The university also has the inherent understanding of its important role in the facilitation, production and mediation of music in service of the students. The agency JAM MUSIC LAB ARTISTS, located in the university, offers excellent products and services in music production, as well as the artistic creations and educational activities of their best students. Furthermore, the university-internal publisher JAM MUSIC LAB PRESS offers students and teachers alike the opportunity to publish their own artistic and scientific work.
As part of a world and musical landscape that's constantly changing and evolving, JMLU orientates itself towards an ethos strongly rooted in the following: delivering a communicative and interdisciplinary musical learning experience; engaging with artistic practice, theory and research as an entity; and continually possessing a basic openness and interest in the new.
Individuality, internationality and innovation are always prevalent as central guiding principles in the collaboration of students and teachers. It also means that everyone is afforded the necessary open space to facilitate high-quality and up-to-date developments in artistic practice and theoretical expertise, as well as human and personal development.
JAM MUSIC LAB University, its students and teachers always welcome cultural diversity among students and teachers, which is valued as a general basis vital for further advancement in art, society, economy and science.
Download: JAM MUSIC LAB Image Brochure
There is no reason for anything other than optimism.

John Cage