Faculties & Institutes
The studies at JAM MUSIC LAB Private University are divided into two faculties:
Faculty of Music Education
Fields of studies & Central Artistic Major (cam)
The courses of study offered can be followed through with various central artistic subjects. They are grouped into branches of study and are taught at the institutes of the same name in the respective degree program.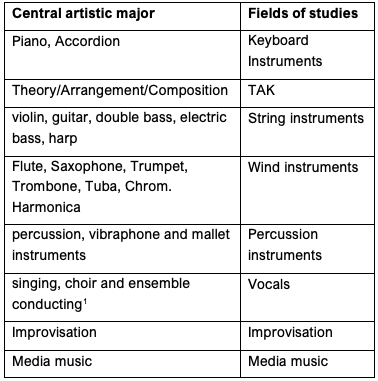 1) The central artistic major Choral and Ensemble Conducting can only be chosen in the Master's Program in Music or Master's Program in Music Education/IGP.
Heads of Institutes
Bachelor's Degree Program Music
Bachelor's Degree Program Music Education
Master's Degree Program 
Study and Research Commission
The study and research commissions advise and develop proposals, e.g. for changes to existing curricula. They amend and adopt the examination manual with provisions on the study and examination regulations. They are responsible for ensuring compliance with the examination regulations and make final decisions on complaints. Proposals regarding the research concept are also made by the study commissions. You can contact the study and research commission responsible for you via the respective chairperson.