Alan Bartus wins the Ö1 Jazz Scholarship 2022
At the audition for the Ö1 Jazz Scholarship, Alan Bartus prevailed against strong competition to win a two-year master's degree at the Jam Music Lab Private University in Vienna.
It was around 4 p.m., on the afternoon of April 27, 2022, when white smoke rose - symbolically speaking - in Studio 2 of the Vienna ORF broadcasting center. "Habemus Ö1 Scholarship Winner 2022!" the jury, consisting of guitarist Wolfgang Muthspiel, US producer Jeffrey Levenson (Herbie Hancock Institute of Jazz, Washington D.C.) and Ö1 Jazz editorial director Andreas Felber, could announce. Previously the jury had a close look at the five best applicants in a final live audition in Studio 2 and decided on - drum roll! - the 21-year-old pianist Alan Bartus as the winner. After saxophonist Robert Unterköfler (2018), drummer Lukas Aichinger (2019), violinist Constanze Friedel (2020) and saxophonist and singer Madeleine Kaindl (2021), he is the fifth winner of the Ö1 Jazz Scholarship and will enjoy a two-year master's degree at the Jam Music Lab Private University in Vienna.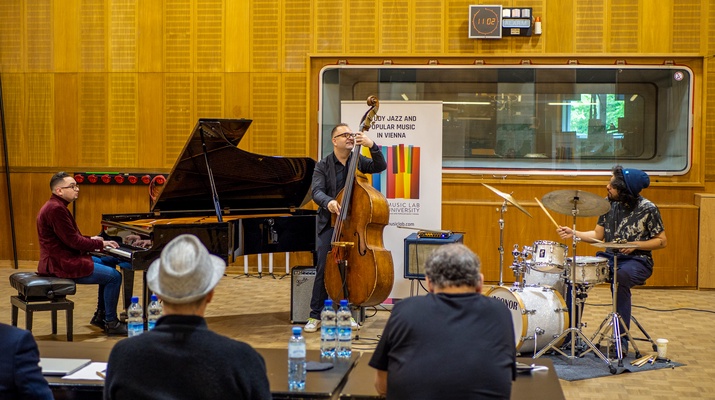 Alan Bartus is no stranger to the Austrian scene, having already drawn attention to himself as a major talent in recent years, often playing alongside his father, the much sought-after double bassist Stefan "Pista" Bartus. Alan was born on February 22, 2001 in Slovakia, in 2012 he moved with his parents to Austria, since then he lives in Neusiedl am See. From 2014 Alan Bartus studied classical piano at the Church Conservatory in Bratislava (graduating in 2021), and from 2018 he also studied jazz piano at the MUK in Vienna with Oliver Kent (graduating in 2022).
Already in his early teens, Bartus, who cites the late Kenny Kirkland (who died in 1998) as an important pianistic point of orientation, performed with his own trio in Slovakian and Austrian jazz clubs, and in February 2018 - when he was just 17 years old - he was also a guest of Klaus Wienerroither in the Ö1 radio session. Together with Stefan "Pista" Bartus, Alan released the trio CD "Connectivity" in 2021, which is worth listening to.
In the audition final for the Ö1 Jazzstipendium 2022, Alan Bartus also let himself be heard with his trio, with father Stefan on bass and Matheus Jardim on drums. In addition to his own compositions "Option" and "Passion Flame," the program also included an arrangement of the Hungarian folk song "A csitari hegyek alatt," served up by Bartus solo. With this selection and virtuosic, powerful playing as well as excellent timing, the young pianist convinced the jury in the end. In this final all participants showed a high level and should therefore be mentioned: The Tyrolean pianists Florian Reider and Elias Tiefenbacher could also show off, as well as the Carinthian drummer Lan Sticker with the newly formed trio KitCut and the highly talented guitarist Andreas Varady, who comes from Slovakia and lives in Vienna.
Alan Bartus plans to use his scholarship to get input from his teacher of choice, Danny Grissett, as part of a master's program at the JAM MUSIC LAB Private University Vienna and to further develop his skills. He also plans to release his debut CD before the end of 2022. We will undoubtedly be hearing a lot more from Alan Bartus in the years to come!
Article: Andreas Felber, Ö1
Find out more about Alan's scholarship in this article of Concerto, Austria's only print publication for jazz, folk, blues & world music: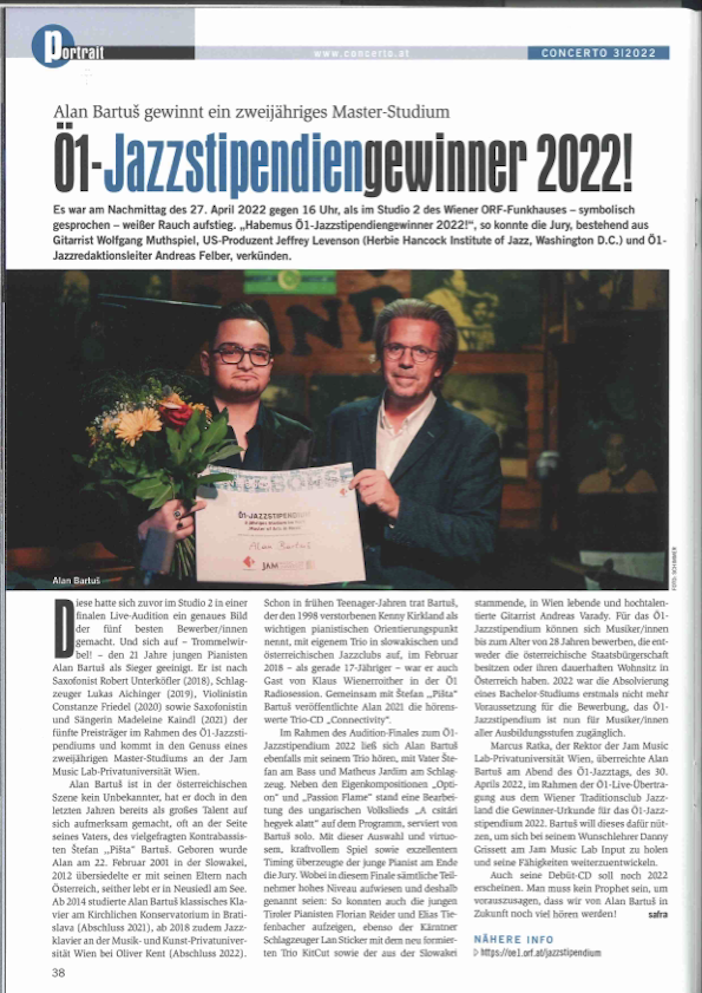 Share:
Authored on May 2nd, 2022