"Goldenes Ehrenzeichen" for Vice Rector Richard Graf
The Vice Rector for Teaching and Digitization at JAM MUSIC LAB Private University has received this award for his work as a composer, music educator, former president of INÖK - "Interessengemeinschaft Niederösterreichische Komponisten" and founder and director of the MAX BRAND Ensemble.
The entire JAM MUSIC LAB team congratulates warmly for this well-deserved honor!
---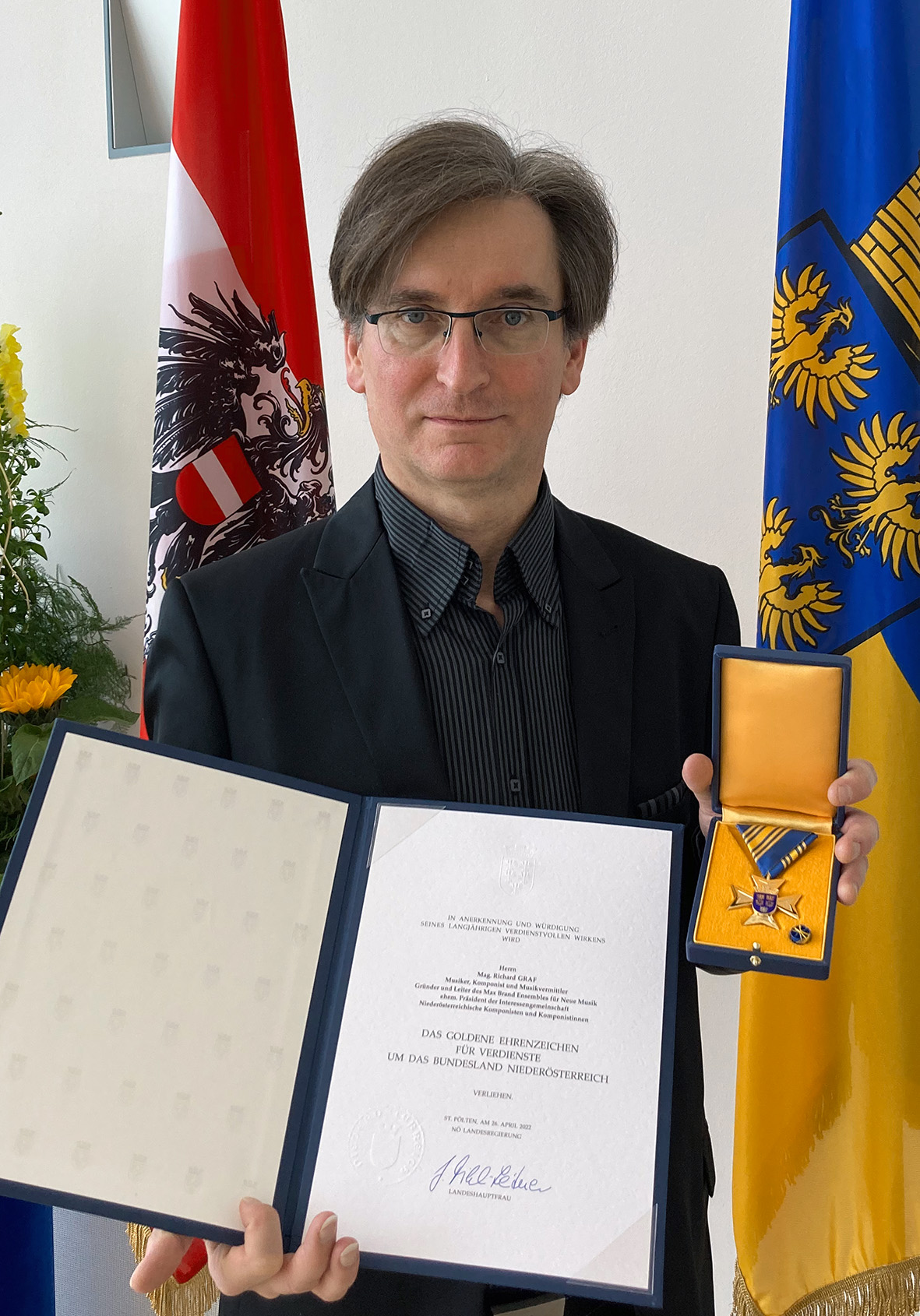 Richard Graf can look back on a wide range of activities as a musician and composer. This includes engagements as a guitarist with the RSO, the Vienna State Opera Orchestra, Volkstheater, Akademietheater, collaborations with (jazz) greats such as Shelly Berg, Gerald Wilson, Marcel Prawy, The Platters, Bill Ramsey, Patricia Kopatchinskaja, Peter Herbert, Mnozil Brass, Daisy Jopling, Jon Sass, Andi Haderer, Mario Rom, Martin Fuss, Emil Spányi, Christoph Cech, Michael Mantler, Franz Koglmann etc. But also commissioned compositions for the Göttinger Symphonie Orchester, the "Kleine Orchester Wien", the LA Big Band, Wiener Glasharmonika Duo, Vienna Flautists etc. show his competence. Last but not least, the direction of his own ensembles RichArt, Richard Graf Trio (with Jon Sass and Richard Filz) and MAX BRAND Ensemble have given him an international reputation. As a producer and operator of the label "Rich Art Records" he can look back on interesting productions in the fields of New Music, Jazz and World Music. In his established concert series "FreiSpiel" Graf interacts with other improvising musicians and explores the possibilities of musical communication.
https://www.musicaustria.at/goldenes-ehrenzeichen-fuer-richard-graf/
Share:
Authored on May 3rd, 2022