JOHN BEASLEY ON WINNING JAM MUSIC LAB´S SPHERES OF GENIUS: 100 YEARS OF THELONIOUS MONK
A competition is a moon-shot dream –a chance to test an ambition that you don't know if you can reach. When I found out about JAM Music LAB University's first international jazz composition competition, "Spheres of a Genius: 100 years of Thelonious Monk" on the inauguration of their school in 2017, I entered the contest as a challenge to see if I can write a symphonic piece, something I had never done before.
2017 was Thelonious Monk's centennial year. That year, I was steeped in Monk because I created a big band called MONK'estra; was set to release my second of three MONK'estra albums; and tour around the world marking Monk's centennial by featuring my modern reimaginations of Monk's music.
So, why not test myself and write a 15-minute symphonic piece and enter Spheres of a Genius: 100 years of my hero Thelonious Monk? I liked the aim of JAM Music's contest "to provoke inspiration for further innovation, originality and musical communication in contemporary jazz."
https://www.spheresofagenius.com/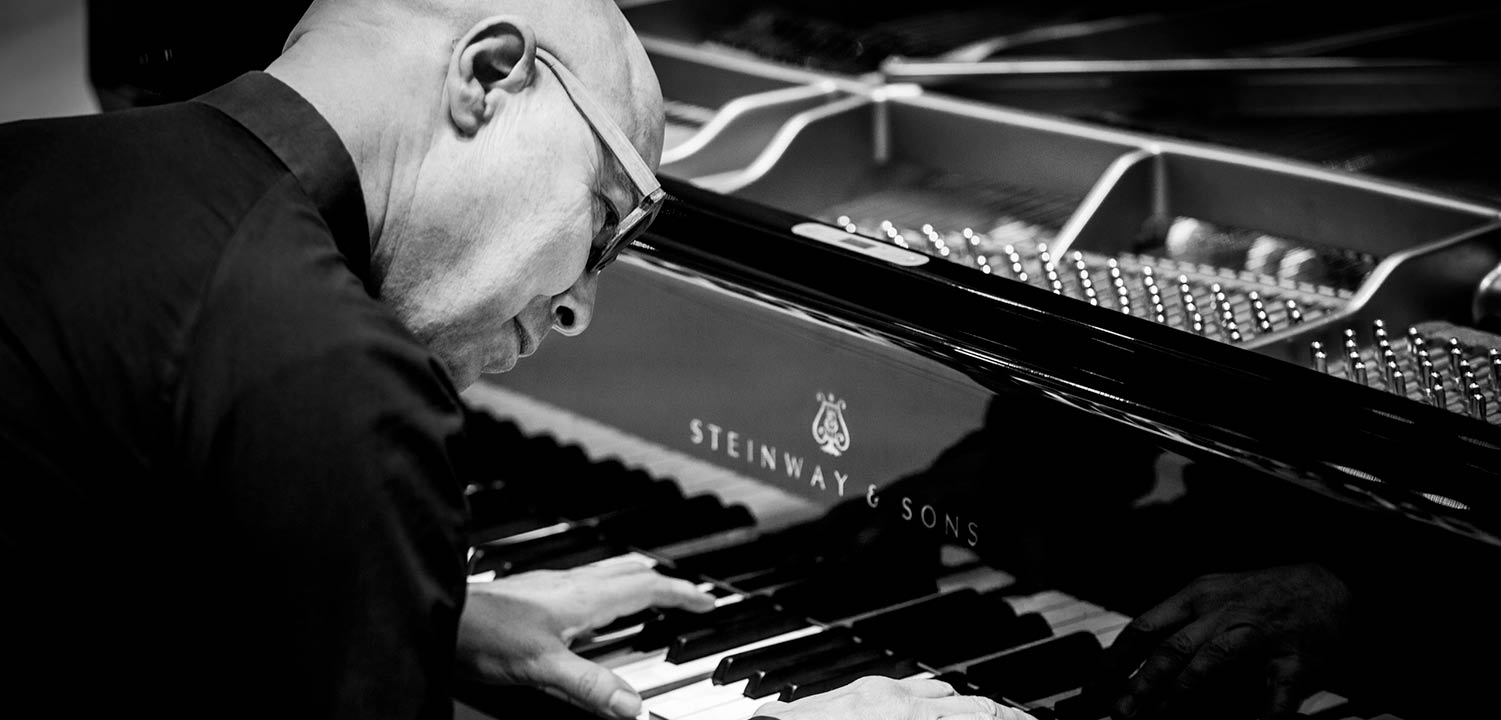 I remember sitting in my friend's Paris apartment for two weeks finishing the score for "Simplexity" and singing out what I wrote, erasing, and rewriting, then feeling ready to submit it and leave it all to chance.
I really was shocked when I was informed that I won. The last time I remember getting a prize for a score was when I was 14. My dad helped me submit an arrangement to the Stan Kenton jazz camp contest. I won that year. The prize was a scholarship to attend their summer camp. Well, I was just as surprised winning this JAM Music contest 40+ years later.
The cherry on top of the prize was to have the Vienna Radio Symphony Orchestra, conducted by their chief Cornelius Meister, perform "Simplexity" at a live concert in the Great Hall of the Vienna Musikverein, one of the most prestigious concert halls in the world for classical music. This is a composer's wild dream… to hear an esteemed orchestra play your music in a breathtaking, historical setting you only see in movies. The other bewildering moments were the two days in Vienna watching the rehearsals and having the opportunity to speak with the musicians and the conductor to convey the spirit of the song "Simplexity" ¬– how the feeling can be simple but complex too.
I encourage composers from far and wide to take a chance and enter this new contest honoring another musical genius, Leonard Bernstein, because of the direct and indirect benefits personally and professionally that keep on surfacing.
Winning JAM Music's competition has brought so many tangible and intangible rewards. I owe this overall achievement to the unsung hero, Thelonious Monk, whose story and music has inspired me to be courageous and innovative in life, in writing, and in performing.
Art needs more champions in order to ensure that it thrives and evolves. I am very grateful that JAM Music created an opportunity for artists to push their boundaries and create and contribute new art for the sake of culture. Art generates empathy, engenders reflection, stirs up dialogue and ideas which makes us human.
ABOUT JOHN BEASLEY
John Beasley, Multi-GRAMMY® and Emmy Award-nominated pianist, composer, arranger, producer, music director An uncommonly versatile pianist, he has backed such jazz icons as Miles Davis and Freddie Hubbard – playing in the bands of both these trumpet greats while still in his 20s. Since then, Beasley has performed with a wide range of artists from Dianne Reeves, Ivan Lins, John Patitucci, Chaka Khan, Christian McBride, Carly Simon, Steely Dan, Lee Ritenour, Somi, A.R. Rahman, and James Brown's last concert at the Hollywood Bowl.
His extensive work as a composer-arranger extends beyond jazz, with many credits in television such as Star Trek: TNG, Cheers, and Fame; and in films scored by 15-time Oscar nominee Thomas Newman 1917, James Bond's Spectre and Skyfall, Finding Dory, He Named Me Malala, and Shawshank Redemption.
While on tour with Miles Davis, Beasley was inspired to record his first album Cauldron, which was produced by Steely Dan's Walter Becker. A dozen albums later, Beasley has earned ten GRAMMY nominations, six for his project called MONK'estra.
FEBRUARY 2021
JOHN BEASLEY: LIFE AFTER "SPHERES OF A GENIUS" WIN
Literally, the day that the Vienna Radio Symphony Orchestra premiered John Beasley's "Simplexity" performance at the Golden Hall of the Wiener Musikverein, John Beasley flew to New Zealand to conduct his MONK'estra band at the International Wellington Jazz Festival. Since then, Beasley has been working recordings, films, TV shows, arranging and conducting for prestigious big bands, producing records and other artists, touring with his various size ensembles, and added to his award nominations.
HIGHLIGHTS OF JOHN BEASLEY'S CAREER SINCE WINNING "SPHERES OF A GENIUS", INCLUDE:
International Jazz Day, Herbie Hancock Jazz Institute and UNESCO
*Music Director for Jazz Day gala concerts in Australia (2019) and Russia (2018).
Commission: "Fête dans la Tête" Carnegie Hall's National Youth Orchestra
*Wrote an original piece that premiered at Carnegie Hall's virtual concert 2020 conducted by Sean Jones.
Album: "MONK'estra plays John Beasley"
*Released the third in a three-part album series of MONK'estra, which earned two GRAMMY Nominations (2021). John's MONK'estra project has a total of six nominations.
Album: "Close to Me" - Maria Mendes
*Produced, orchestrated, arranged, conducted and performed on Portuguese singer's Fado-jazz project which featured the Netherlands' Metropole Orkest. This album won an Edison award for "Best Jazz Vocal" album (2020); a Latin Grammy nomination and a Grammy nomination for Best Arrangement (2021).
Album: "Holy Room" - Somi
*Arranged and conducted singer Somi performing with Frankfurt's HR Big Band. The album earned a "Best Jazz Vocal" album Grammy nomination (2021).
Films: "1917" and "Let them all Talk"
*Worked with 15-time Oscar nominated film composer Thomas Newman on both films. With "Let them all Talk" Beasley arranged and orchestrated Newman's score and conducted his MONK'estra big band and a string section to perform the score for the big screen.
Concert: Tribute to Duke Ellington: Frankfurt's HR Big Band
*Arranged Ellington's songs for HR Big Band, conducted by Jim McNeely.
Tour: MONK'estra Quartet in United Arab Emirates
*Performed in Abu Dhabi and Dubai featuring music from MONK'estra project.
Guest Radio Host: SiriusXM - Real Jazz channels
*Hosted 3-hour shows and launched a new show "Flipped" featuring arrangers.
Steinway & Sons Artist
*Selected to be a Steinway artist.
UPCOMING 2021 AND BEYOND
"Bird" Charlie Parker's centennial project
*Recording a reimagination of Charlie Parker's select music and launch of a global tour with co-conductor/arranger Magnus Lindgren and Stuttgart's SWR Big Band and strings.
Chucho Valdes "The Creation" Suite, a tribute to Yoruba Africana's influence on American and the Caribbean to mark Valdes' 80th birthday
*Orchestrating the jazz section of the Suite and preparing to conduct and perform for the US and global tour.
International Jazz Day, Herbie Hancock Jazz Institute and UNESCO
*Preparing for 2021 Jazz Day concert.
Concerts: Tribute to Chick Corea, Thelonious Monk, and Duke Ellington with Frankfurt's HR Big Band
*Arranging music from Corea's "Return to Forever" and Ellington songs, and preparing to conduct all charts, including MONK'estra for this triple tribute concert.
Tour: Maria Mendes with Metropole Orchestra and/or small ensemble
*Preparing to conduct and perform in the Netherlands to promote "Close to Me" album.
EP album: Beas in the Backyard ~ MONK'estra trio
*Release of EP
Guest Radio Host: SiriusXM - Real Jazz and Miles Davis Radio channels
*Hosting 3-hour special shows "My Favorite Arrangers"; "Fusion Fridays"; Host of Miles Davis channel; and "Spotlight on Grammy nominees"
"Simplexity" John Beasley's Spheres of a Genius winning music
*Recording for symphonic album
Share:
Authored on February 24th, 2021