#JamMusicResearch on Michael Brecker feat. Randy Brecker, Peter Erskine, Joe Lovano & Jeff Levenson
Presented by Jeff Levenson -
Supporting the Michael Brecker Saxophone Competition July 2021 by JAM MUSIC LAB and Jazz Fest Wien.
The study of jazz and pop - history, development, vibrancy - is richly informed by the oral accounts of players and individuals who "wrote" the story of these musics. Their eye-witness testimony is an invaluable resource for learning.
Michael Brecker might be the most influential saxophonist to emerge in the post-John Coltrane era. He was a model of the cross-pollinating musician, an instrumentalist who borrowed from different styles and genres, then integrated his findings into a singular voice. His process underscored the challenges - and role - of the creative artist.
JAM is honored to dedicate the first episode of this new Oral History series to the life and music of Michael Brecker, as remembered by shapeshifters Randy Brecker, Peter Erskine and Joe Lovano. JAM's Jeff Levenson moderates.
---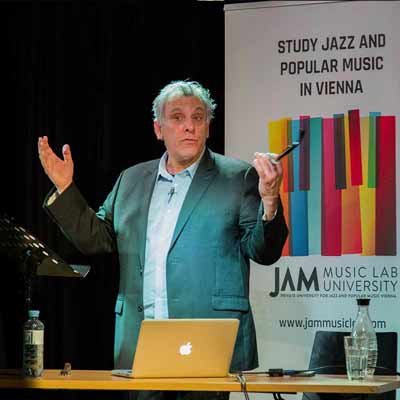 Jeff Levenson, International Relations JAM MUSIC LAB
Jeff Levenson is a label executive, writer-producer, consultant and jazz columnist. His affiliations, past and present, include posts at Half Note, Sony, Warner Bros, Downbeat, Billboard and the Blue Note jazz club in New York. He currently produces the annual Thelonious Monk Competition in Washington DC, and has authored and/or produced events for the NEA, the US State Department, the White House, the New School for Social Research and the Songwriter's Hall of Fame. His collaborations include projects with McCoy Tyner, Michael Brecker, Herbie Hancock, Branford Marsalis, Conrad Herwig, Arturo Sandoval, Randy Brecker, Joe Lovano, Lee Konitz, Esperanza Spalding and Bill Frisell, with production and/or supervision credits on 13 Grammy albums - 2 winners, 11 nominees. Levenson has served the Blue Note management team, advising on club programming and international development. He recruits North American representatives for Jazzahead in Germany. He contributes a column, Ears New York, to JazzFM91 in Toronto, chairs the National Jazz Committee for the Grammys, administers grants and awards as Recording Academy Trustee, and enjoys the company of musicians.
Share:
Authored on April 23rd, 2020